The start and finish as it was 22 years ago...Blazing sun, good beer and nice people...
Gedinne 1989 with Jnr Rumble, a 2nd place finish from the back row of the grid,,, Machine is Rumble conventional LWB 700 Yamaha engine (made from brand new parts)
Some of the Racing Brits seen here in Stuart Hall's van from left to right, Jnr Rumble sat in front of van, Steve Langham (red jacket ) obscured,
then we have Gordon Jones/ Bob Mills/ Stuart Hall sat behind and Tony Darby peeping round sliding door...Julie Jones and Allison Mills..
Here we have long time supporters of Gedinne road races, from L to R, a very young Chris Founds, with Dad Dez Founds, My good self and my chum Big Phil Barron.
Gordon and Julie had come for the ride to check out the 'Craic' for the following year,,,,Steve rode with Rumble Snr on yet another yellow and white missile....
Dutch duo (nearest camera) Niek and Tonny van Bergen always very well turned out and had the most impressive race truck that crained their machine in and out of a mobile workshop in the back of an articulated truck.
We never got to know these guys coz they kept them selves to them selves,,,,,,,But I always got the feeling they hated the Brits because we tended to celebrate getting to a European venue, then we celebrated the finish of practice, then we celebrated the days racing with enough beers to sink a battle ship.....
Pip Hampton warming the JP Engineering machine (passenger to Rodger ?) his name escapes me for a moment .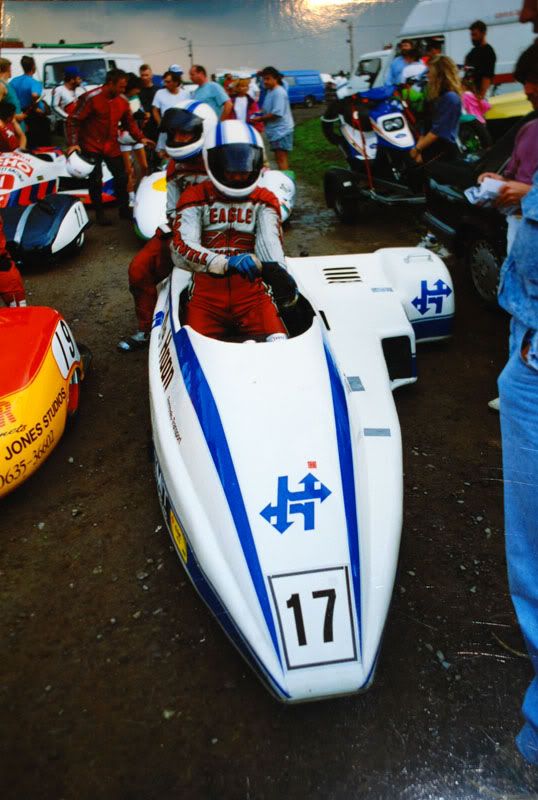 The van Bergens here wearing the wet weather leathers,,,,,,,,before the off in the afternoon practice Saturday,,,,,,,,
Stuart Muldoon was more than impressive on a damp track powersliding his machine through the sweeping left of the start and finish ( my heart was in my mouth each time they came past)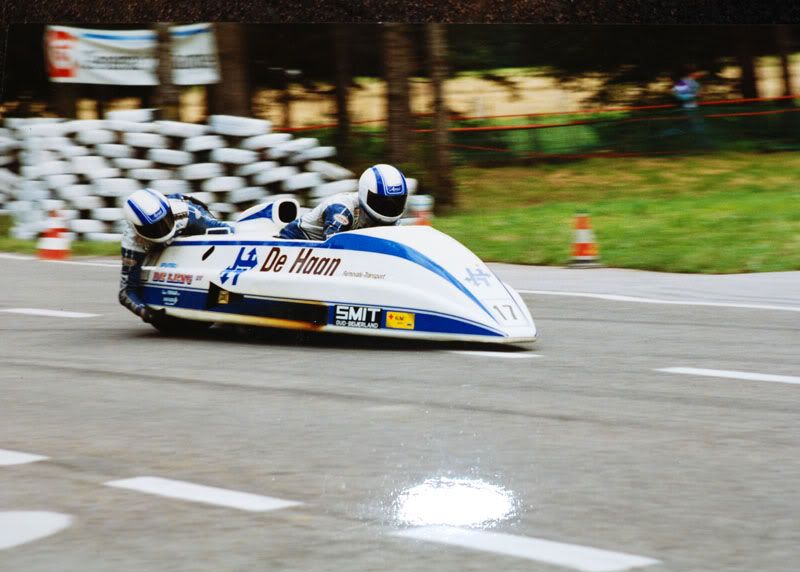 The Van Bergens in race mode...complete with race leathers.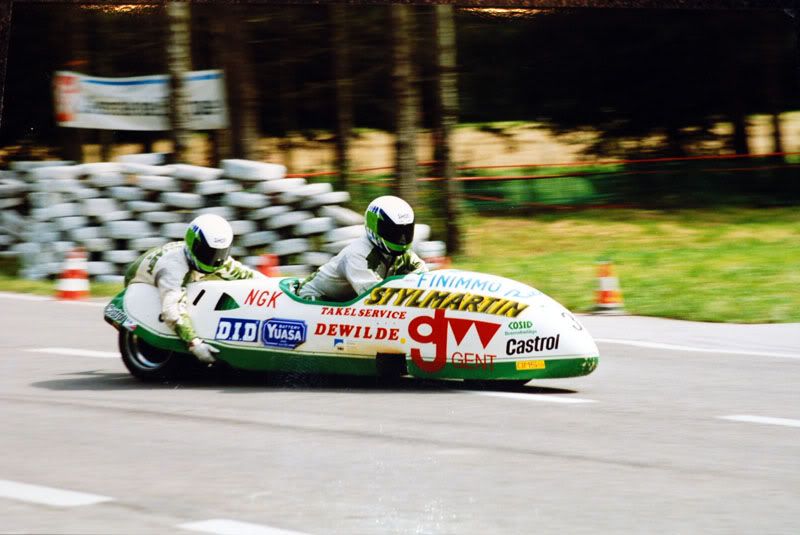 Dutchman Police officer Chris Beart was a former 125cc solo racer who loved the whole sidecar scene....and a nice bloke too.
Andy Westhead and my good self on the Ex Jnr Rumble Windle 700 Yam, a pair of second places at Gedinne was for me the end of an era. Our Mechanic in the red shirt behind us was ex international solo rider Tony Rodgers who was yet another hero of mine,,,,,,,,, Further in the back ground is Stuart Hall and Young Lee Eastell with Dez Founds and Roland Martiney on his 600 just joining the pit lane.
Windle Yamaha was a good tool to have at that time....
Dream Machine Race paint was employed so we would get noticed....
Mr Andy Westhead and his pride and joy,,,,,,I jumped ship after this meeting,,,I got the feeling I wasn't welcome in this team.
A shot of the very quick down hill left before the right kink into the woods on the Gedinne start and finish.......These days for the classic racing the bus stop on the right is always used.....In the back ground is the recently built open air bar with combined toilet block which was much needed coz before this there was bugger all if you turned up early for the race weekend...

I always loved the Starts at Gedinne, the FIM Green Blazer guys used to show up moments before the off, it always made me feel special even if we had a poor race......
Gedinne start 1991, I can be sure of that but how many can you name any on the grid ? Your starter for 10 is Stu Muldoon and Mr Gussman grass cutting on the far right.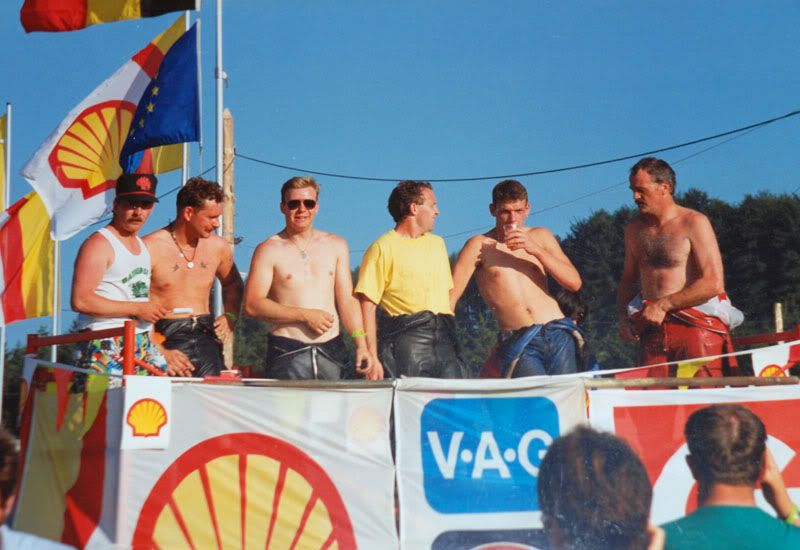 Race one podeum, showing a full house of brits and some flat tums and muscules......Note the bunting covered rostrum.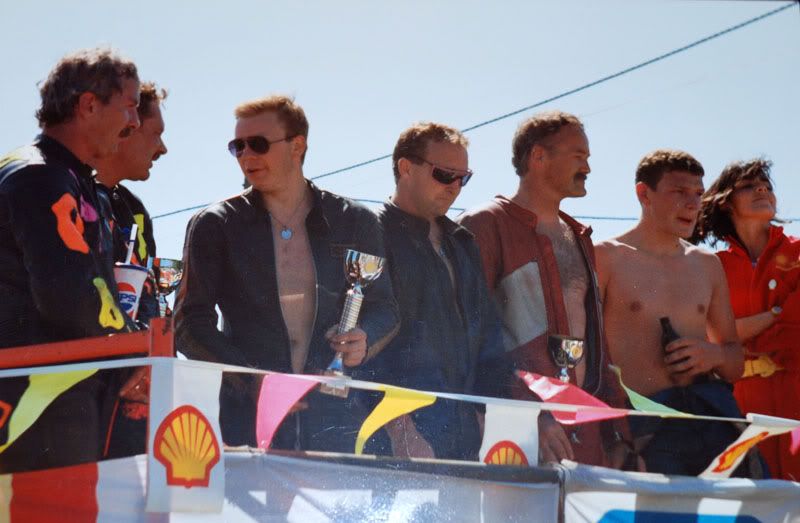 Race 2 was a bit more of a rushed affair....
Hey over here, as big Phil Barron shouted to us....
Regards]
Fritz,,,,,,,,,,,,,,
found a couple more this morning,,,,,,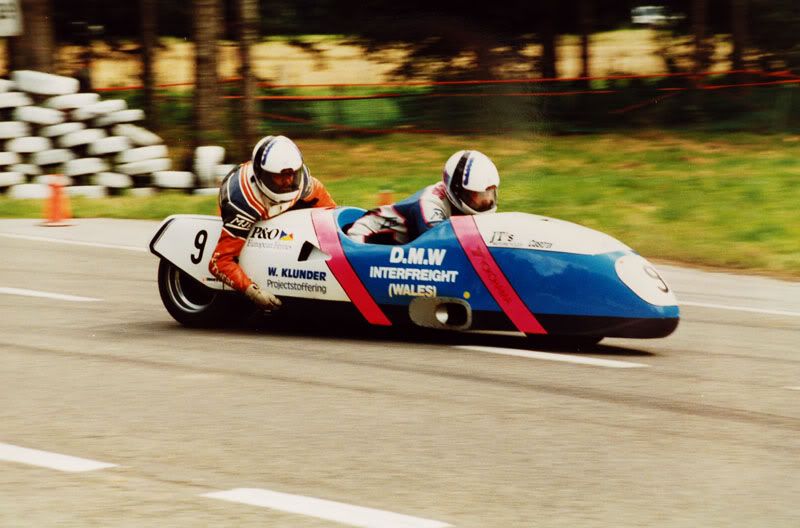 Gary Thomas and Rinne Bettgens.(92 winners)
Bob Mills and Alison Goodwin return from a wet practice session.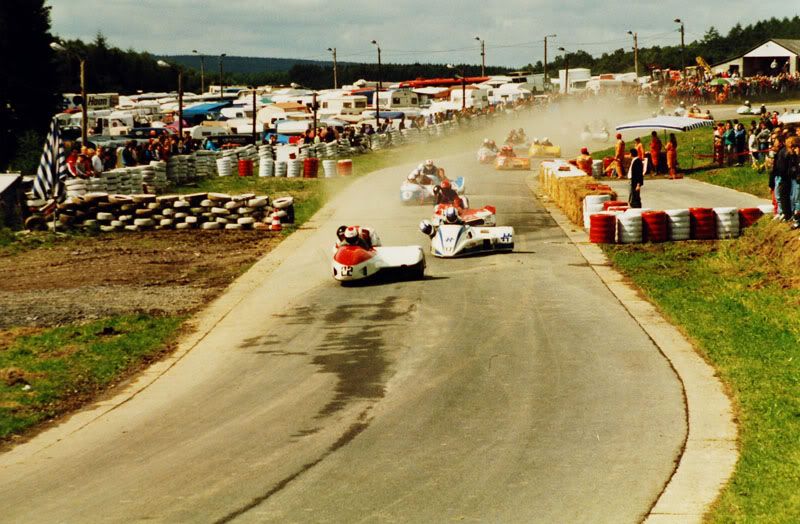 Stuart Muldoon leads off the line. (1992)