Assen World SBK treated to top-class sidecar action as Schlosser extends lead
Photos from Mark "Big Wally" Walters
Following the great show provided in Donington Park, the FIM Sidecar World Championship crews were determined to repeat that display at Assen.
With only two points splitting the top two teams, it was all to play for as the season hit the half-way stage.
Hot but cloudy conditions greeted the free practice session for the fourteen crews making the trip. There might easily be no stopping Markus Schlosser/Marcel Fries (Gustoil Racing LCR) and they played their hands early coming out on top with a 1.43.552.
Steve Kershaw/Ryan Charlwood (Quattro Yamaha), inspired by victory in Donington were second quickest from defending Champion Tim Reeves/Kevin Rousseau (Bonovo Action Adolf RS Yamaha), ahead of Santander Salt's Todd Ellis/Emmanuelle Clement.
A return from injury saw Benny Streuer with new passenger Jeroen Remme slot fifth with a brilliant sixth fastest for Manxman Harry Payne/Mark Wilkes.
Ted Peugeot and Lukas Wyssen came next and will also be adding good points if their performance was anything to go by.
Qualifying – Again the teams met heat and humidity for the two sessions. It was immediate from the off that the top five or six crews would be competing hard in tomorrow's eighteen lap race. The top three, Ellis, Schlosser and Reeves were split by fractions of a second, with Ellis/Clement taking pole in session two. The margin was three one-thousandths from his Swiss championship rivals Schlosser/Fries. Tim Reeves and Kevin Rousseau sat nicely third. But how many times did we see him rocket through from that position?
Markus Schlosser hit electrical problems in Q2, so was praying that issue had been resolved. Row two was completed by Pekka Paivarinta/Ilse de Haas, with Kershaw and Streuer on row three.
Race One – After a short delay, the lights went out with Tim Reeves/Kevin Rousseau jumping into the lead after lap one. Reeves can certainly get his Adolf RS Yamaha off the line, and this was no exception. He had almost a one second lead after the opening lap from Ellis/Clement and Schlosser/Fries. Steve Kershaw/Ryan Charlwood were on Schlosser's tail as Ellis upped the pace to reduce the gap from race leader Reeves.
Streuer, Peugeot and Paivarinta were locked together in a terrific scrap for fifth place, as the front two eased away slightly.
Next came Harry Payne/Mark Wilkes some eight seconds clear of Endeveld/Krone and Wyssen/Hofer. Todd Ellis kept the Santander Salt Yamaha in touch with the eight times champion, albeit one second adrift at the six-lap distance. Seven laps in, and it was becoming a two-horse race at the front, with Kershaw challenging Schlosser for the final podium place.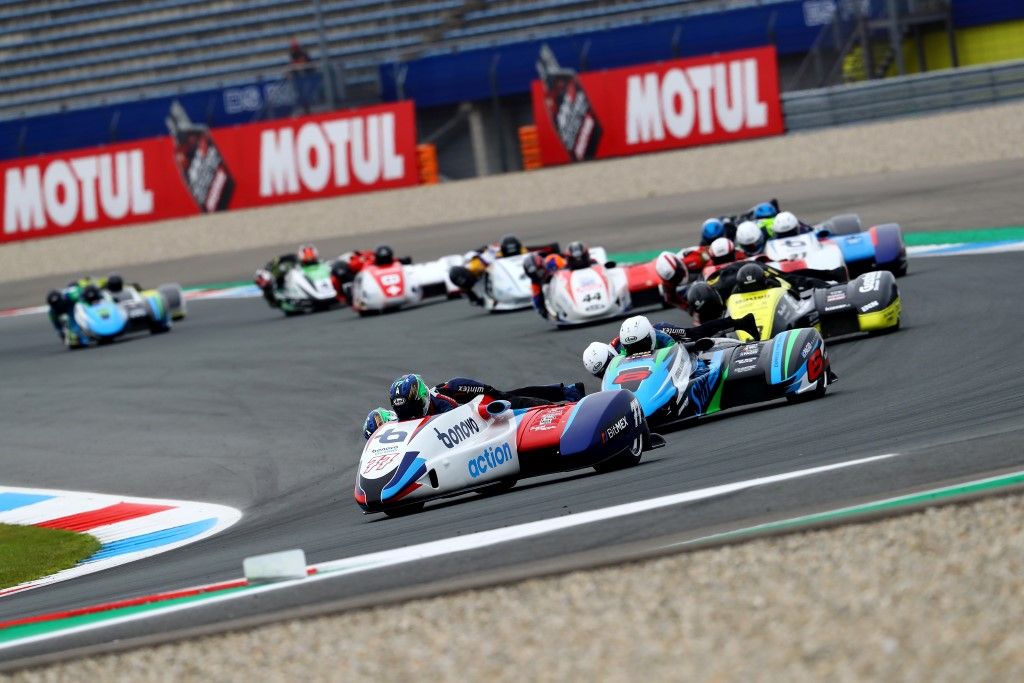 Approaching half distance and Ellis/Clement eased closer to the leader, now five seconds clear of Schlosser/Fries in third. Reeves had just one third of a second, and Ellis was stalking him every inch of the way.
Now it was the Swiss crew's turn to get closer, as Schlosser turned in three fastest laps in succession to get within two seconds of Ellis's tail. Further down the order, Kevin Cable was having a good solid ride in eleventh fighting all the way.
It really was game on, and a touch of Deja-Vu as Ellis and Schlosser piled the pressure on Reeves. Catching him would be one thing, but as Donington Park showed us, passing is another story entirely. Then Ellis was third, falling victim to a charging Markus Schlosser. With five laps yet to go, there was still a way back for the young Anglo-French couple.
Kershaw and Streuer were also moving up, having both paced themselves perfectly.
Five outfits were now within three seconds of each other, and it was looking like a grandstand finish was on the cards.
With three laps to go, another fastest lap by Schlosser had him all over the back of the race leader, so the excitement was heavy in the air. Then drama – Schlosser led, having dived through on Reeves, and Ellis saw an opportunity to follow. There was then an incident between the two British crews which took Ellis out of the race into the gravel. It also cost Reeves twelve seconds dropping him to fourth. The Swiss pair marched on to extend their title lead with Ellis firmly beached, and furiously contemplating what might have been.
The shocks were not over yet. Having been awarded third, Benny Streuer was later disqualified for an infringement on the minimum weight rule. Reeves inherited third and a step on the podium.
Result –
1/ Markus Schlosser/Marcel Fries (Gustoil Yamaha LCR),
2/ Steve Kershaw/Ryan Charlwood (Quattro Yamaha),
3/ Tim Reeves/Kevin Rousseau (Bonovo Action Adolf RS),
4/ Ted/Vincent Peugeot (LCR Yamaha),
5/ Harry Payne/Mark Wilkes (LCR Yamaha),
6/ Rob Biggs/Jeroen Schmitz (Santander Salt Yamaha,
7/ Lukas Wyssen/Thomas Hofer (LCR Yamaha),
8/ Pekka Paivarinta/Ilse de Haas (Team 44 Yamaha LCR),
9/ Kevin Cable/Kyle Masters (L&W LCR Yamaha).
10/ Luneau/Bidault,
11/ Vinet/Common,
12/Ellis/Clement (Santander Salt Yamaha),
13/ Endeveld/Krone
Race Two – Scheduled for late afternoon, much anticipation preceded this one. That was not without justification, because Todd Ellis/Emmanuelle Clement grabbed the early lead, thereby depriving Tim Reeves the chance of early supremacy. He was in third place on lap two, with Pekka Paivarinta/Ilse de Haas between him and the race leader.
Again, it was shaping up, even in the early stages into a battle royal between the big guns.
Schlosser and Kershaw were having their own scrap for fourth place, just three seconds off the lead, so there was already a freight-train at the front.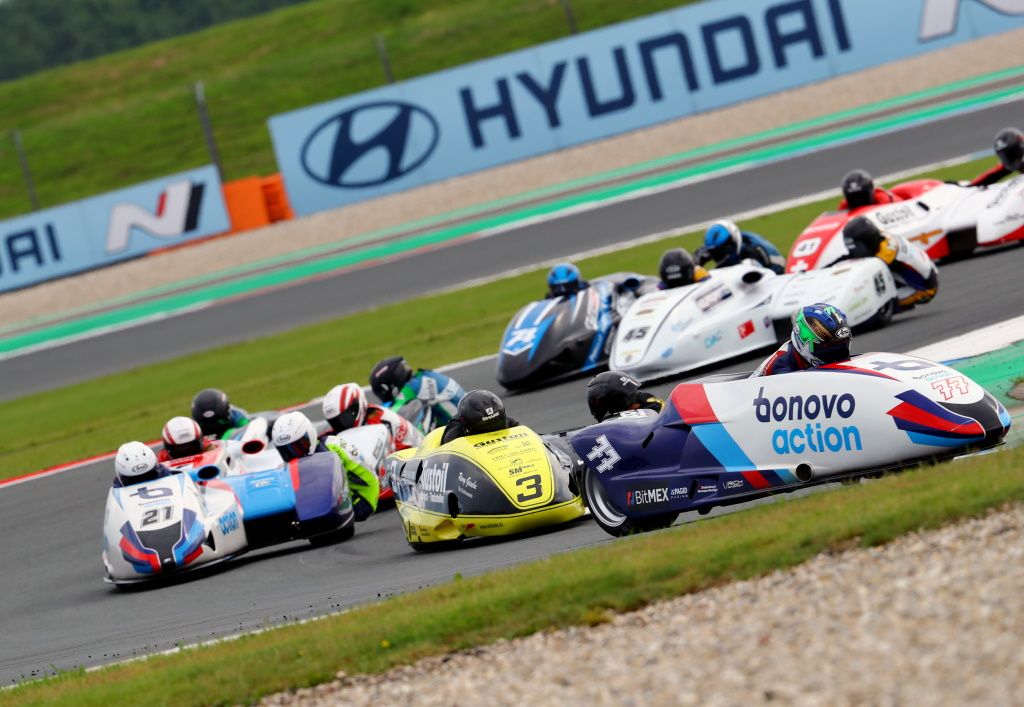 Lap four and eight-times champion Reeves was past Paivarinta and one second behind Ellis the race leader. Any overtaking move would need to be carefully thought through, but Ellis had other ideas.
Schlosser was now third and this was where the real battle would shape up. Kershaw, Biggs, Streuer and Harry Payne were all in the mix scrapping for fifth place.
Lap seven and Reeves had made the move by Ellis and set about consolidating it. At this moment in time, Schlosser/Fries were the fastest on track and drawing ever closer to the front.
Rob Biggs and Jeroen Schmitz were having a very good ride in sixth, ahead of Peugeot and Payne, just as their team-mate Ellis was passed by Schlosser on lap ten.
Reeves/Rousseau were in sparkling form and began to eke out a small margin, but at two-thirds race distance there was plenty of time ahead.
It now really was a fifteen-wheeler as Paivarinta and Kershaw joined the party. Ellis then looked to be in trouble as he dropped down the order to fifth. A small mistake cost him dear as Kershaw moved up.
He regained his composer, moving back to fourth as the battle at the front became a two-horse affair between Reeves and Schlosser. Next man to fall to a recovering Ellis was the four-times Champion Paivarinta.
Then suddenly, Reeves/Rousseau were sliding back down the table with a mechanical problem. They were not to make the finish, suspecting an electrical fault. Ellis now had three laps to find over a second if he were to make it to the front.
Rob Biggs was now a fine fifth, with Kershaw desperate to get past Paivarinta.
This he managed to do, going third on lap sixteen of eighteen.
Into the final lap and Ellis had halved the gap to Schlosser, but it was a big ask to find as much again.
That proved to be the case, and the Swiss team extended their title lead even more with victory over Todd Ellis/Emmanuelle Clement with Kershaw/Charlwood on the final podium step.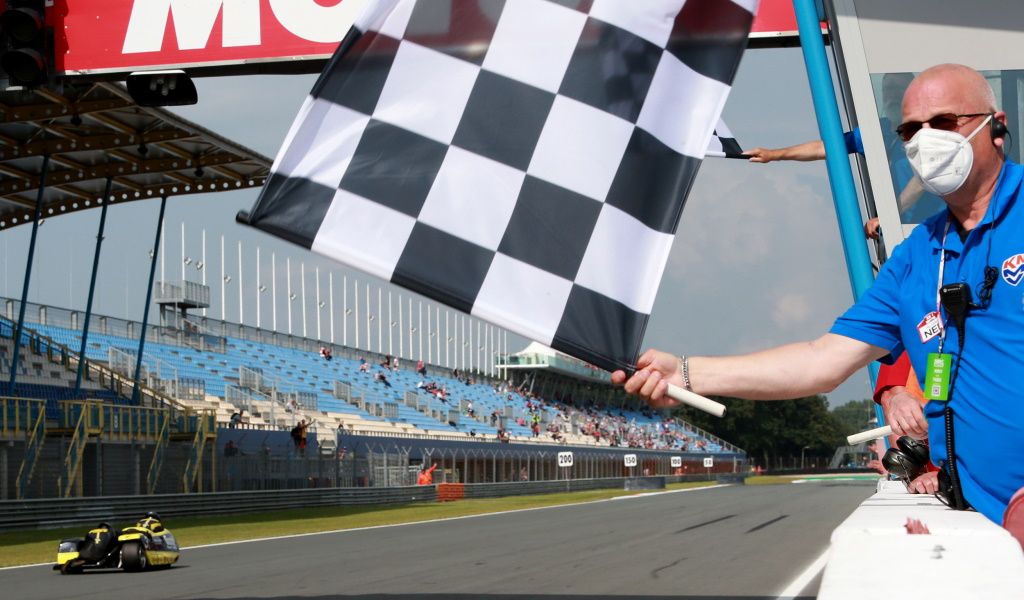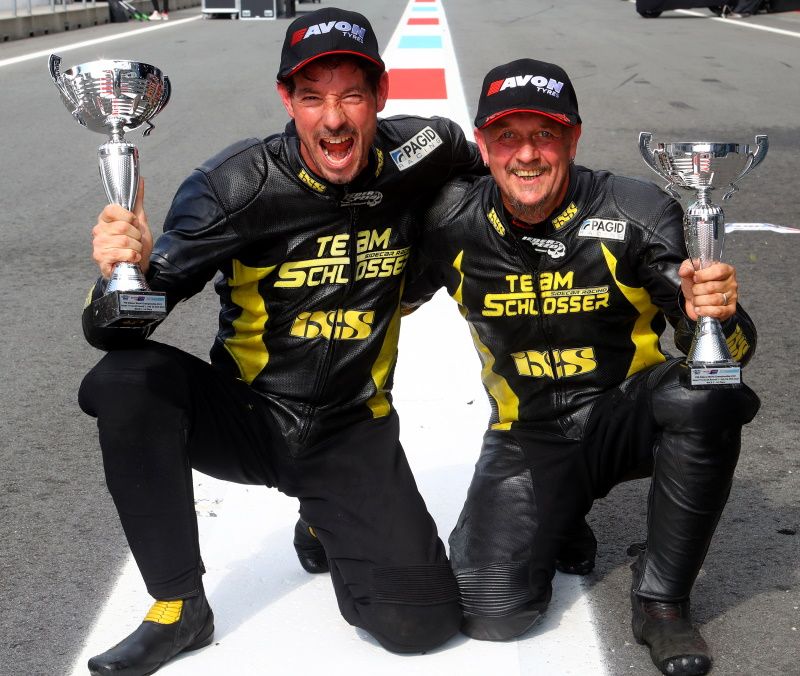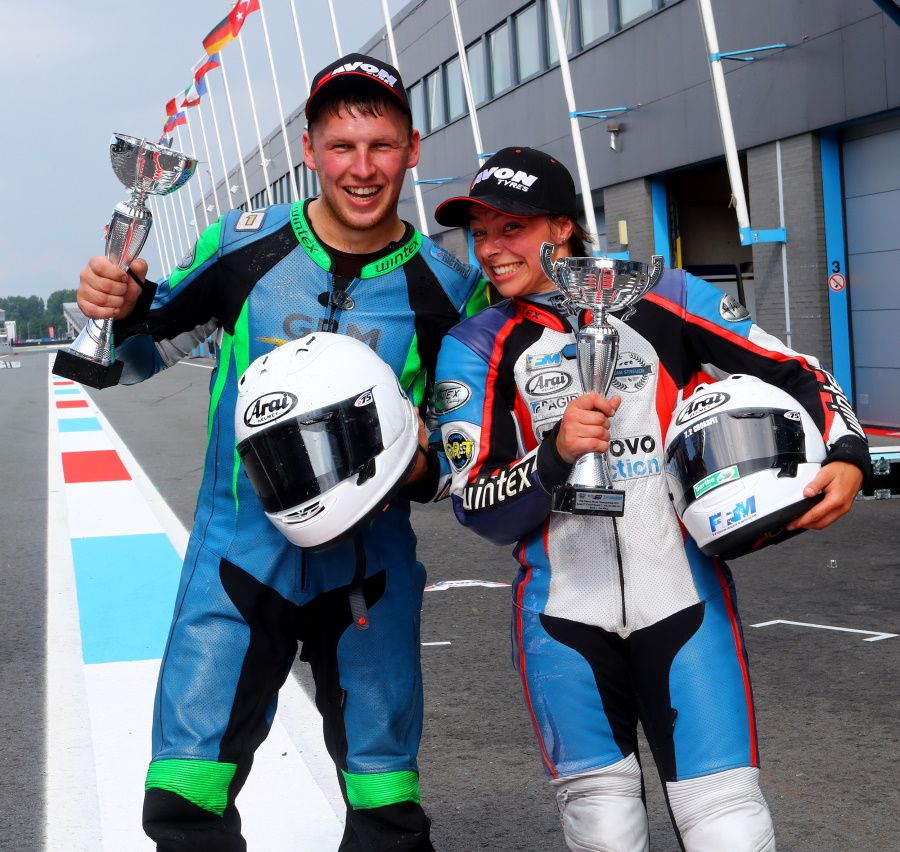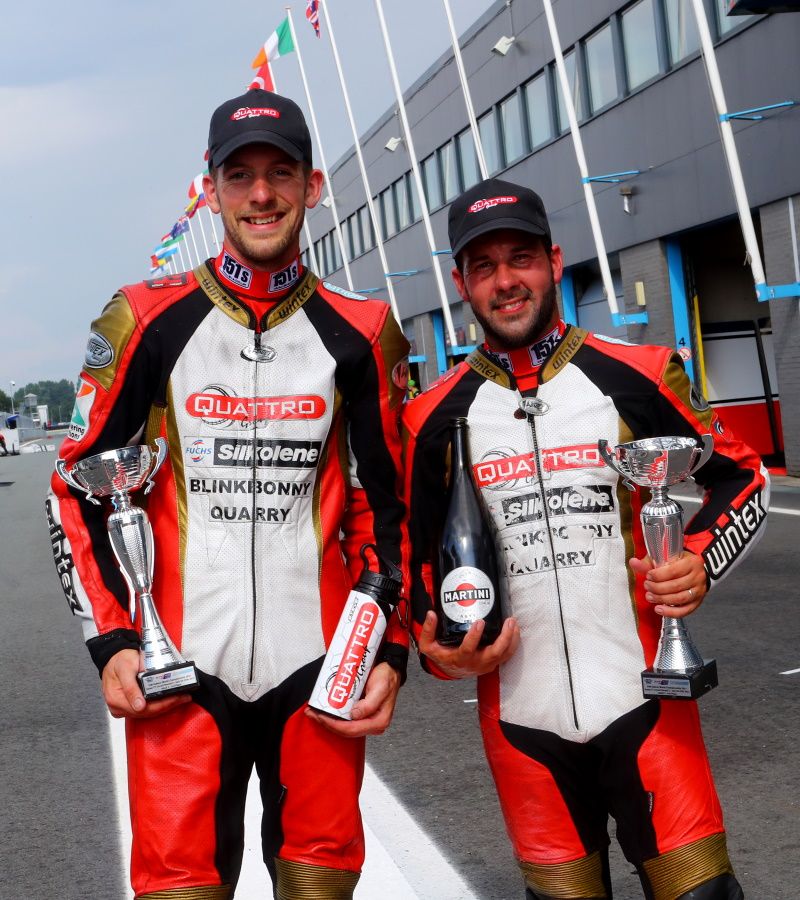 Result –
1/ Schlosser/Fries,
2/ Ellis/Clement,
3/ Kershaw/Charlwood,
4/ Paivarinta/de Haas,
5/ Biggs/Schmitz,
6/ Peugeot/Peugeot,
7/ Payne/Wilkes,
8/ Wyssen/Hofer,
9/ Endeveld/Krone,
10/ Cable/Masters.
Standings – Schlosser 165, Ellis 133, Paivarinta 113, Kershaw 96, Reeves 85,
Wyssen 58, Peugeot 45, Endeveld 41, Payne 36, Biggs 30, Sattler 26, Cable 24,
Vinet 20, Christie 20, Blackstock 20,
The next round is from Croatia August 20-22nd.
Media Matters – Barry Nutley barry.nutley@btinternet.com