F.S.R.A. / 1st Call Refrigeration Pre-Injection Sidecar Championship – Aintree – Saturday 10th June


Words – Raitch Greenwood / Photographs – Haydn Wyatt
Saturday 10th June saw round four of the F.S.R.A. Pre-Injection Sidecar Championship, supported by 1st Call Refrigeration heading to Merseyside, for their first visit in several seasons to Aintree – in scorching weather conditions. Uncertainties for those who had not raced at Aintree before were soon forgotten as what turned out to be a fantastic meeting got underway with three sidecar races. Alas, entries were a little down compared with other meetings, some due to technical issues and some due to clashing with the TT, but for those that attended this was a very rewarding experience.
As temperatures climbed into the 30s, some good racing was had at both ends of the pack, with Gary Fairhurst / Billy Andrews (Windle Kawasaki) constantly battling against Mark Burns / Steven Winfrow (LCR Yamaha) to continue their so far impeccable winning streak in the F1 class, while Steve Woolcott / Eleanor Morgan (Honda) and Gerald & Daniel Hodgson (Shelbourne Honda) were fighting throughout for the runners-up placings in the F2 class, with Woolcott / Morgan taking second in races one and three, while Hodgson / Hodgson reversed the order in outing two.
Derek Salleh / Jack Fairhurst (Ireson Yamaha) were back on form, following serious engine problems at East Fortune, tangling with the F1 pairings of John Stephenson / Amanda Mason (Suzuki GSXR) and Dave Tibbles / Raitch Greenwood (DDR Suzuki) and comfortably taking all three F2 wins.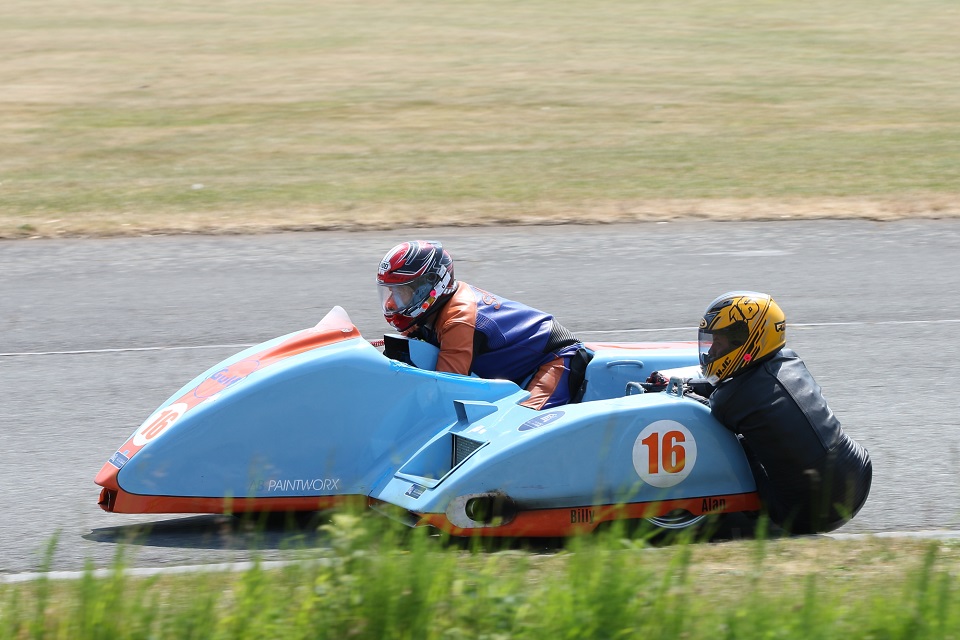 While Burns / Winfrow achieved three second place finishes and the fastest lap of the day, Stephenson / Mason took three third places in the F1 category, consolidating their current second place in the championship standings.
A welcome addition to the grid for the first time so far this season was the father and son team of Billy Gilroy / Redd Gilroy (Windle Kawasaki), the championship sponsors, who were ironing out a few technical issues but nonetheless enjoying some good racing.
The next round will be a two day meeting at Anglesey with the Wirral 100 Club on 29th and 30th July.
F1 Championship Points

F2 Championship Points