A.C.U. / F.S.R.A. British F2 Sidecar Championship – Round 3 Preview – Oulton Park – Saturday 24th June

Supported by :- A.V. Craine & Sons; Hegarty Plant Ltd.; Pagid Racing;
Whitby Cottages; Rowtec Engineering Maintenance & Tingle Windows
Words – Tim Langham (F.S.R.A. Press Officer) / Photographs – Bryan Gough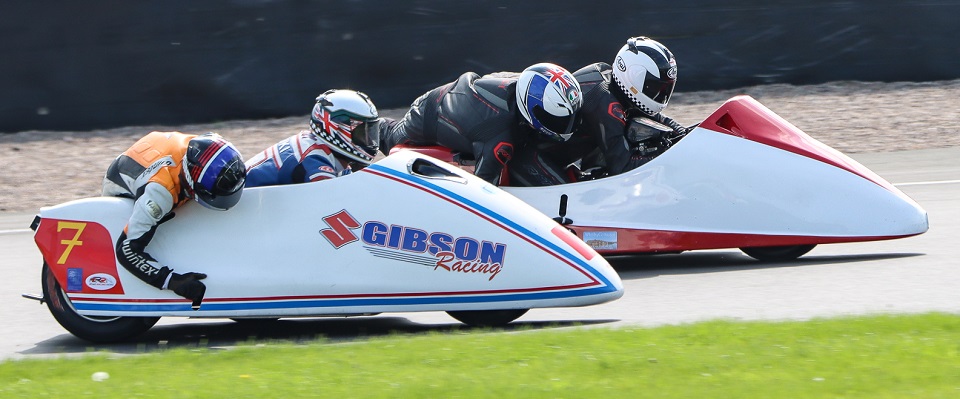 Round three of the A.C.U. / F.S.R.A. British F2 Sidecar Championship sees the teams make a return to the immensely popular Oulton Park in rural Cheshire. It will be the first visit since a very wet season closing event in September 2019, and with similar conditions in 2018, it would be unsurprsing to see a third Super F2 lap record in 2023 broken in as many meetings if early season precedence is anything to go by.
Reigning champions, and topping the standings with three wins and a runners-up placing to date, Pete Founds / Jevan Walmsley (LCR Honda) will be brimming with confidence following a hugely successful fortnight on the Isle of Man, where they took a brace of second place finishes, and became only the second crew in history to lap the 37.73mile Mountain Course in excess of 120mph. Oulton Park is Team Founds "home circuit", always performing well here, and indeed they were running in the overall top six at the recent B.S.B. F600 event on their F2 machine.
With four podium finishes, including a win at the opening race at Donington Park are Alan Founds / Jake Lowther (LCR Yamaha), although at the time of going to press an entry had yet to be received from the team lying second in the table. Father and son team Steve & Matty Ramsden (LCR Honda) are presently third in the championship chase, with three podiums and a fourth place – their consistency could well prove to pay dividends if they continue this form as they return from their most successful T.T. campaign to date.
Another entry yet to be received at the time of publishing is that of Daryl Gibson / Tom Christie (CES Suzuki) – who have been achieving excellent results on the new CES F2 machine, including taking third place points at Donington Park in race one. Mike Jackson / Jake Roberts (DMR Suzuki) sit fourth in the Super F2 table, having not finished outwith the top six so far in 2023. Other teams looking to put some serious points on the board include Sean Hegarty / James Neave (Baker Honda); Gary Horspole / Kenny Cole (Baker Suzuki) and Rob Atkinson / Mark Middleton (Bellas Honda).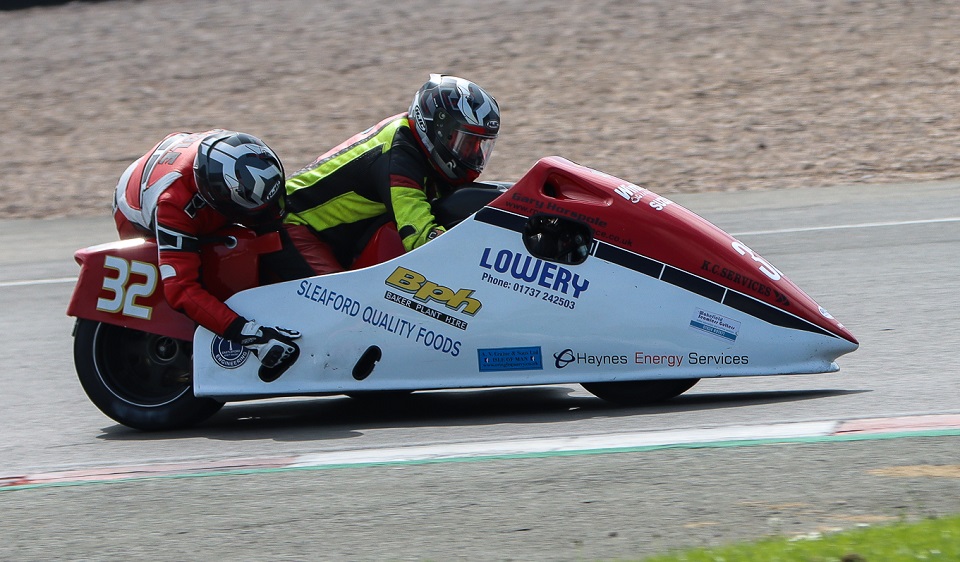 In the F2 Cup, two wins and two second places see Brian Ilaria / Arlo Brown (DDM Suzuki) hold a nineteen point lead – after several years of finishing in the top three, they will have their fingers firmly crossed that this could be their year to take the title. With a trio of Cup podiums in 2023 so far, including a win at Donington Park are James Saunders / Sarah Stokoe (Baker Honda), and they will be looking to further establish themselves as the leading newcomers to the series this year. While Charlie Morphet / William Reilly (LCR Honda) had an excellent start to the season at Croft – their win and a second place seeing them jointly top the table – a non-scoring weekend at Donington has dropped them to third in the standings. Dave Schofield / Josh Smith (Bellas Yamaha) are currently in fourth place overall, having taken two third places, but two non-finishes (including one where they were hit by another outfit which forced them out of race one at Donington) has seen them drop points which would otherwise have seen them further up the order. The Cup is as ever looking like being tightly fought throughout the midfield, with the likes of Chris Schofield / Dave Ryder (Baker Honda); Bob Dawson / Matt Sims (LCR Honda); Paul Riley / Jody James (DDM Suzuki) and Bruce Moore / Amy Dodd (Ireson Honda) all capable of finishing in podium slots.
The entry is boosted by several "wild-card" teams, including 2021 British Champions Lee Crawford / Scott Hardie (CES Suzuki), who finished second and third on the road in the previous round at Donington – they made their return to the circuit at a club meeting a fortnight later and broke the lap record – proving the new CES machines have serious potential! Dan Knight / Ben Hughes (LCR Honda) make their first appearance of 2023 at British Championship level, at what is their local circuit, while Mark & Rian Saunders (LCR KTM-890) will surely generate some interest as the first crew to take advantage of the invitation to the series for parallel twins up to a capacity limit of 900cc. A reminder that wild-card entrants are entitled to collect trophies (in both classes if eligible), but may not claim championship points so as not to interfere with registered teams.
Current Lap Records:
Super F2 – P. Founds & Walmsley – 01:45.994 – 02/05/22
F2 Cup – Beare & Binns – 01:49.953 – 23/04/16
On behalf of the F.S.R.A., as always I would like to express thanks to our loyal series sponsors. The A.C.U. have again awarded the official "British Championship" title, who are joined by A.V. Craine & Son; Hegarty Plant Ltd; Pagid Racing (Breitenbach Rennsport); Rowtec Engineering Maintenance; Tingle Windows and Whitby Cottages.
Finally, the F.S.R.A. would like to thank Wirral 100 for hosting, and to all their dedicated officials, marshals, medics and all the other volunteers involved in running the event.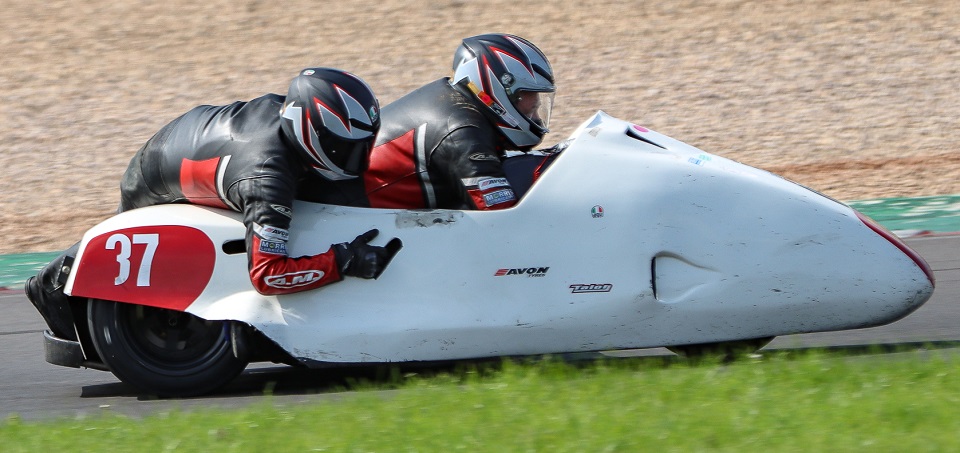 Super F2 Championship Points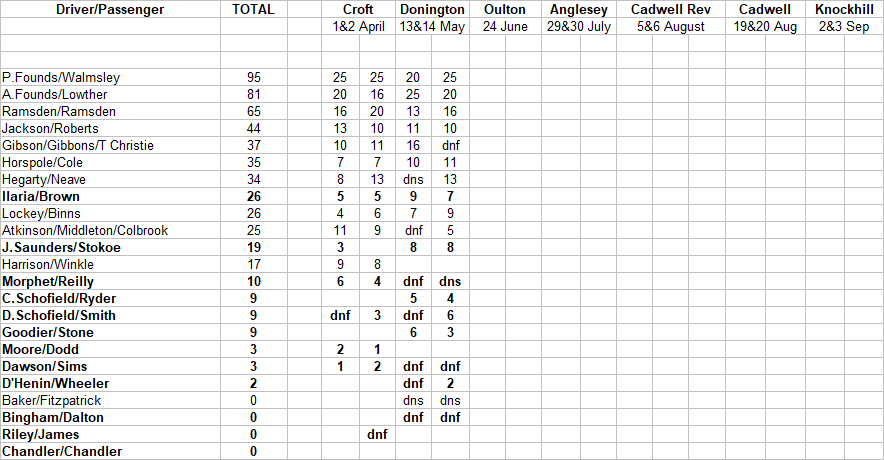 F2 Cup Championship Points