A.C.U. / F.S.R.A. British F2 Sidecar Championship – Round 4 – Anglesey – Saturday 29th & Sunday 30th July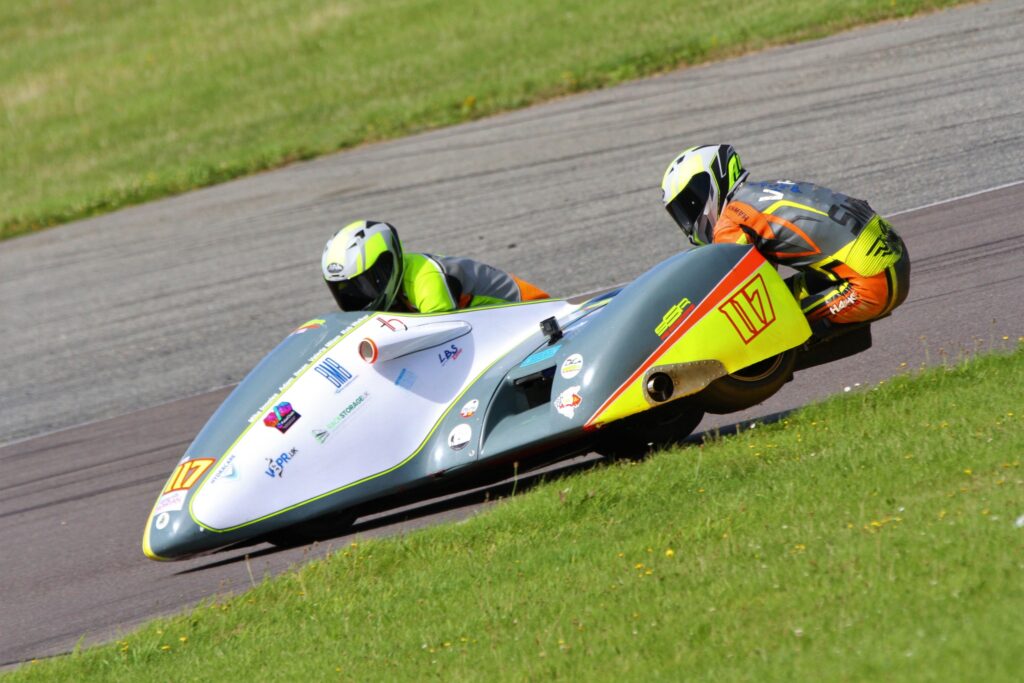 Supported by :- A.V. Craine & Sons; Hegarty Plant Ltd.; Pagid Racing;
Whitby Cottages; Rowtec Engineering Maintenance & Tingle Windows
Words – Tim Langham (F.S.R.A. Press Officer) / Photographs – Simon Heath
As the championship gathers momentum following two fairly quiet months to accommodate the T.T., Southern 100 and Oliver's Mount Road Races, there now follows a hectic five week period with three events remaining to determine the series victors, which culminates at Knockhill on the weekend of the 2nd and 3rd September. With the series passing the half distance point following the event at Anglesey, both the Super and Cup leaders further consolodated their positions at the head of the standings with double wins for Pete Founds / Jevan Walmsley (LCR Honda) and Brian Ilaria / Arlo Brown (DDM Suzuki), both being rarely troubled in any of the sessions as they dominated at the picturesque coastal circuit.
A rather chaotic and busy free practice session opened the proceedings on Saturday morning, with 35 machines on circuit – the British F2 teams sharing the tracktime with the Wirral 100 Club and F.S.R.A. / 1st Call Refrigeration Pre-Injection outfits. With a huge disparity in speeds and techniques, laptimes were largely irrelevant, with the time used mainly for familiarisation and machine setup.
Cup leaders Ilaria / Brown set the pace in the opening laps of qualifying, before being overhauled at the top of the leaderboard by Anglesey specialists, father and son Steve & Matty Ramsden (LCR Honda). However, on their first flying lap, Founds / Walmsley set the fastest time, and were not headed throughout the fifteen minute session, their fastest lap being 1:13.425, over half a second clear of the Ramsdens.
Wild-cards George Holden / Oscar Lawrence (LCR Yamaha) were having their first outing for several years on an F2 (the machine usually campaigned by George's father, John), and were a very impressive third fastest, with Ilaria / Brown delighted with fourth. Sean Hegarty / James Neave (Baker Honda) were fifth, and while Daryl Gibson / Rhys Gibbons took sixth, they were exasperated to have only put in three laps as their motor expired, leaving them with a marathon task to change engines in a narrow window before the opening race.
Wayne Lockey / Ben Binns (LCR Honda) were seventh, while Bob Dawson / Matt Sims (LCR Honda) jumped up the leaderboard in the closing seconds to post the eighth fastest time, and second in class, with Rob Atkinson / Mark Middleton (Bellas Honda) and Gary Horspole / Kenny Cole (Baker Suzuki) rounding out the top ten.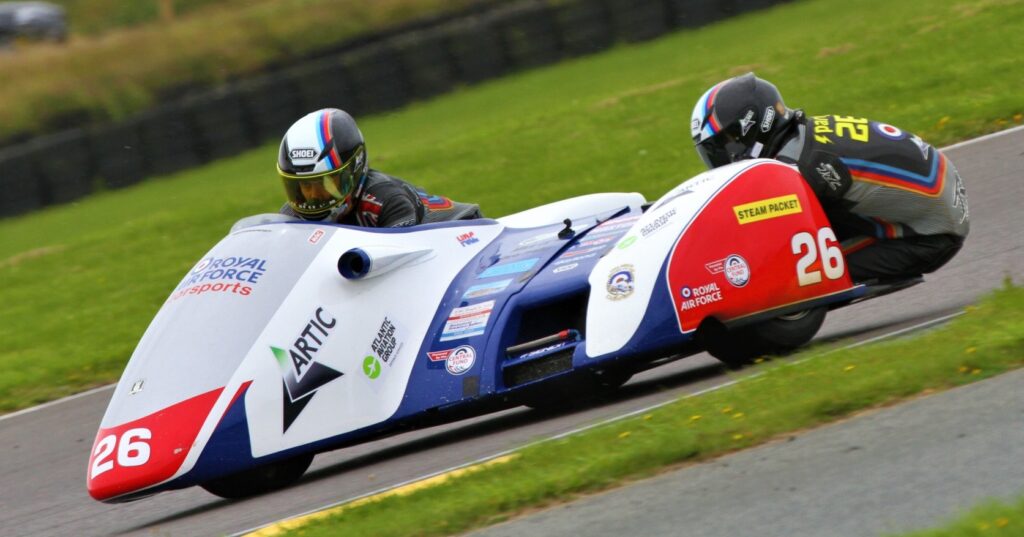 Unfortunately Saturday's race had something of a depleted line up, with several teams missing the opening race due to mechanical problems in free practice and qualifying, including the aforementioned Gibson / Gibbons, who were joined on the sidelines by Paul D'Henin / Owen Rigby (DDM Suzuki) and Bruce Moore / Amy Dodd (Ireson Honda) – all of whom worked hard to make the grid on Sunday.
On this occasion, Founds / Walmsley did not take advantage of their pole position, and found themselves running third in the wheeltracks of Holden / Lawrence, who were around a second behind the Ramsdens at the end of lap one. Hegarty / Neave then headed a train of outfits, having got the better of Ilaria / Brown who were fending off Atkinson / Middleton and Lockey / Binns. Dawson / Sims were determined to gain points in the Cup, and were running second in class, with the fast starting David Schofield / Josh Smith (Bellas Yamaha) closely duelling with Charlie Morphet / William Reilly (LCR Honda).
Founds / Walmsley moved ahead of Holden / Lawrence on lap two, and it looked like only being a matter of "when and not if" they would take charge at the front. Meanwhile, the rest of the field ran largely unchanged with the order remaining the same on lap three – although sadly a retirement to pitlane for fourth placed Hegarty / Neave ruled them out of proceedings, joined too by Cup runners Andrew Bingham / Jordan Forrest (Shelbourne Suzuki) who stopped out on circuit, while Horspole / Cole and Chris Schofield / Tom Dawkins (Baker Honda) were also forced into retirement.
As the race passed half-distance, the Ramsdens were still in control, maintaining a tiny lead of less than 0.5s over Founds / Walmsley. Holden / Lawrence were only two seconds in arrears, these machines now a good twelve seconds in front of the chasing pack, which was still headed by Cup leaders Ilaria / Brown. A close battle was raging for fifth, with Lockey / Binns fending off Dawson / Sims – both of whom had managed to get the better of Atkinson / Middleton, who had dropped to seventh.
It was something of a surprise as the teams started lap twelve, with Holden / Lawrence having snatched the lead, with the Ramsdens dropping to second, and Founds / Walmsley third! Further down the field, there was a dispute for the final spot on the Cup podium, with Morphet / Halliburton holding a reasonable margin over James Saunders / Sarah Stokoe (Baker Honda), who had just moved ahead of Schofield / Smith.
Holden / Lawrence continued to lead as the teams entered the penultimate lap – however championship leaders Founds / Walmsley were firmly on the charge, and had relegated the Ramsdens to third, just 0.190s behind the leaders as they crossed the line, taking the lead shortly thereafter. Founds / Walmsley took the win from Holden / Lawrence and the Ramsdens third, in one of the closest and action-packed races of 2023. Ilaria / Brown were a lonely fourth, taking the Cup victory, while Lockey / Binns had eased away from the chasing pack to finish fifth, ahead of Atkinson / Middleton.
Dawson / Sims were second in class, and seventh overall, with fellow Cup teams Morphet / Reilly; Saunders / Stokoe and Schofield / Smith completing the top ten, ahead of veteran Tony Baker / Leon Fitzpatrick (Baker Suzuki) who scored their first points of the year.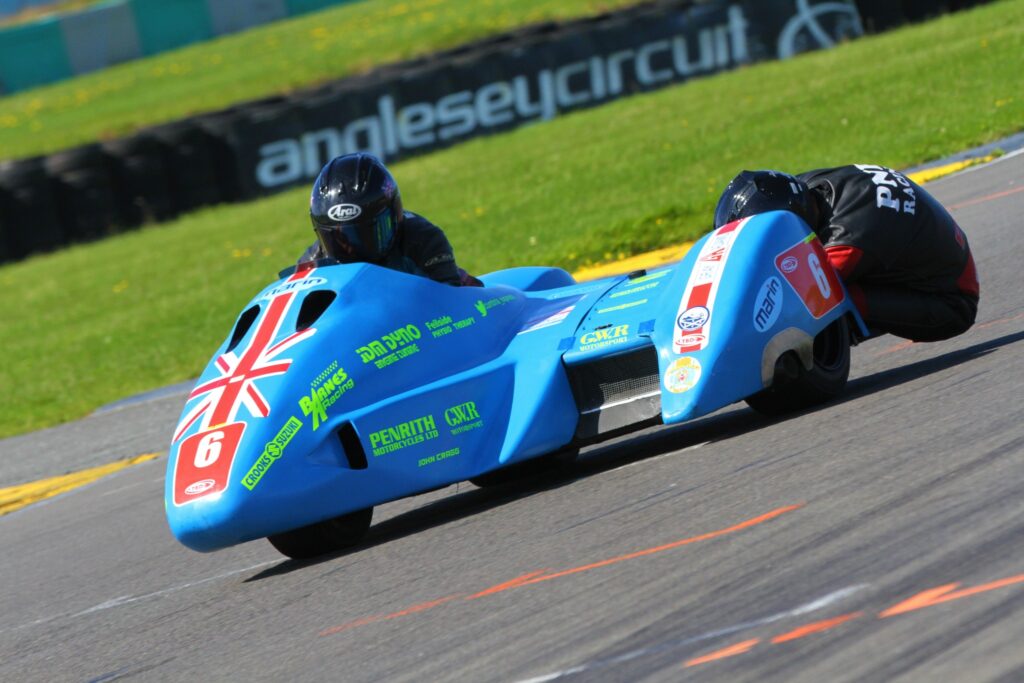 With proceedings brought forward on Sunday due to the imminent arrival of inclement weather (as seems to be traditional on every F.S.R.A. visit to Anglesey on a Sunday!), race two got underway – with the outfits of Gibson / Gibbons; D'Henin / Rigby and Moore / Dodd all taking the start – but unfortunately a fuel pump problem sidelined Dawson / Sims before the formation lap.
The top six reverse grid was a little scrappy from the start, with a small amount of paint exchanged as the teams battled for track position. It was the fourth placed starters, the Ramsdens who led at the end of the opening lap, while Founds / Walmsley had moved ahead of pole sitters Atkinson / Middleton. With several of the usual front runners having started from the back of the grid, those making the biggest gains on lap one were Hegarty / Neave, who were running fifth, making up eight places, and Gibson / Gibbons who were in ninth, snapping at the heels of fellow fast starters Horspole / Cole.
Founds / Walmsley were looking to establish themselves at the head of the field, and having moved ahead of the Ramsdens, they began to open a gap. Atkinson / Middleton were still holding onto third resolutely, although a line of outfits were running astern of them, headed by Hegarty / Neave; Ilaria / Brown; Lockey / Binns; Holden / Lawrence and Gibson / Gibbons.
Founds / Walmsley were certainly giving their utmost, and were opening a gap over the Ramsdens, setting their fastest lap – 1:12.845 on lap six. However, the lap record set back in July 2010 by Simon Neary / Dipash Chauhan (1:12.668) still remains intact – despite the series visiting the circuit on an almost annual basis!
Holden / Lawrence and Gibson / Gibbons were making gradual progress to move inside the top six, and while the bottom step of the podium was still possibly in reach, the top two seemed assured, barring an error or mechanical failure. Ilaria / Brown were again running especially strongly, heading the Cup and running fifth on the road. Morphet / Reilly; Saunders / Stokoe; Schofield / Smith; Schofield / Dawkins; Moore / Dodd and D'Henin / Rigby were all circulating just outside the top ten, but were in contention for decent point scores in the battle for Cup class honours.
There was disappointment for Bingham / Forrest and Baker / Fitzpatrick, who were early retirements, and were joined shortly thereafter by Moore / Dodd with a mechanical issue.
A well-managed race saw Founds / Walmsley take their sixth win of the season by a margin of 11 seconds over the Ramsdens to extend their championship lead to 33 points. Holden / Lawrence had a spirited ride to pip Hegarty / Neave to third place in the dying stages, while Gibson / Gibbons had progressed through the field to fifth, while Ilaria / Brown took the Cup honours and sixth place overall – their lead in the Cup now stands at 69 points – although 175 more are still up for grabs at the remaining events.
The top ten was made up by Lockey / Binns; Atkinson / Middleton; Horspole / Cole and Morphet / Reilly – who took second in class. Meanwhile the F2 Cup saw Saunders / Stokoe take third, from Schofield / Smith, with Schofield / Dawkins and D'Henin / Rigby completing the top six.

On behalf of the F.S.R.A., I would – as always – like to express thanks to our series sponsors: The A.C.U. for awarding the official "British Championship" title, along with A.V. Craine & Son; Hegarty Plant Ltd; Pagid Racing (Breitenbach Rennsport); Rowtec Engineering Maintenance; Whitby Cottages and Tingle Windows.
Finally, the F.S.R.A. would like to thank Wirral 100 Motor Club for hosting, and to all their dedicated officials, marshals, medics and all the other volunteers involved in running the event. It will be a fast turnaround for teams – particularly those who have to overcome mechanical issues – as the next round is at the International Sidecar Revival at Cadwell Park, with testing getting underway on Friday 4th August, followed by three races over the weekend. This is the short circuit highlight of the season for all sidecar enthusiasts and competitors, with all classes and eras of sidecar racing represented, drawing huge crowds and providing fantastic entertainment.
Super F2 Points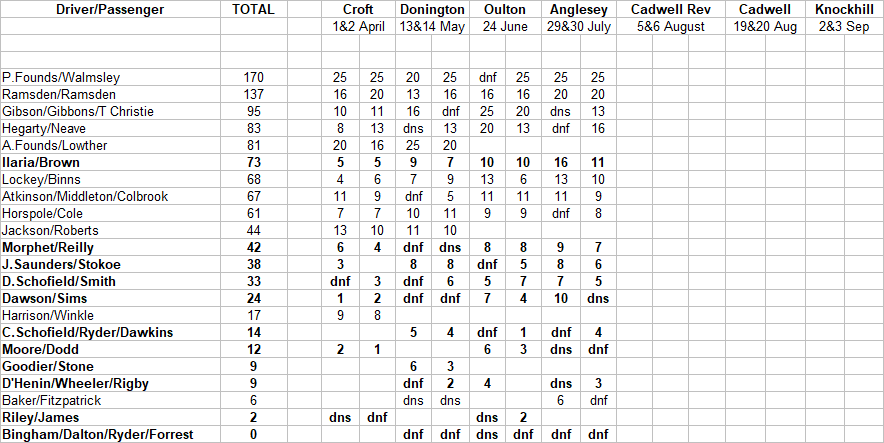 F2 Cup Points