The 2023 A.C.U. / F.S.R.A. British F2 Sidecar Championship – Round 5 – Cadwell Park Sidecar Revival – Saturday 5th & Sunday 6th August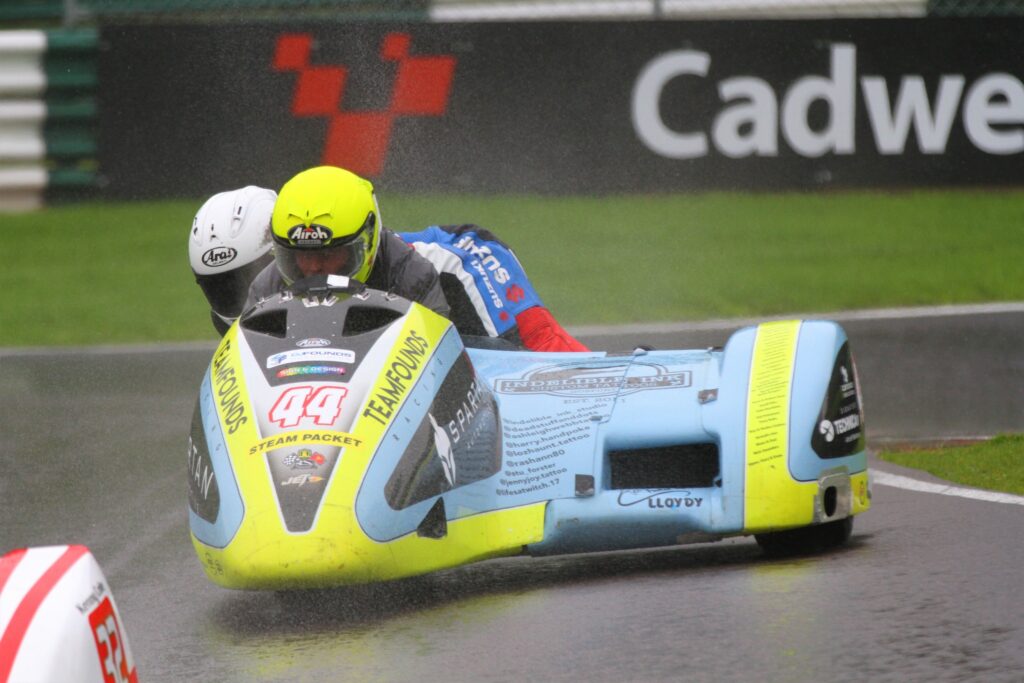 Supported by :- A.V. Craine & Sons; Hegarty Plant Ltd.; Pagid Racing;
Whitby Cottages; Rowtec Engineering Maintenance & Tingle Windows
Words – Tim Langham (F.S.R.A. Press Officer) / Photographs – Simon Heath
Changeable weather conditions did not deter Pete Founds / Jevan Walmsley (LCR Honda) or Brian Ilaria / Arlo Brown (DDM Suzuki) – both of whom took an immaculate hat-trick of wins in the Super F2 and F2 Cup respectively to extend their championship leads at the fifth International Sidecar Revival at Cadwell Park. With only 100 points remaining, Founds / Walmsley hold a commanding 56 point advantage over Steve & Matty Ramsden (LCR Honda), while Ilaria / Brown need just a single point to clinch the title, regardless of other results.
Predictions of persistent rain on Saturday were sadly correct, with modest times set in the free practice session. A healthy entry of twenty one series regulars were joined by the wild-card teams of Gordon Shand / William Szeinel (Shand Suzuki); and following an absence of nine years, Carl Fenwick / Phil Knapton (Shelbourne Yamaha).
A combination of delays due to incidents, and the weather, Saturday's schedule began to fall behind time. Qualifying got underway on a wet circuit at 3.30pm, and it was Founds / Walmsley who took pole position, 1.5s clear of Daryl Gibson / Rhys Gibbons (CES Suzuki). The Ramsdens continued their consistent impressive form, placing third, just ahead of Alan Founds / Jake Roberts (LCR Yamaha) – Alan had slipped down the table recently, having opted to miss the previous two rounds. The Cup series leaders Ilaria / Brown were fifth, with Sean Hegarty / James Neave (Baker Honda) sixth. The top ten was completed by Rob Atkinson / Mark Middleton (Bellas Honda); Tony Baker / Leon Fitzpatrick (Baker Suzuki); and Cup teams Paul Riley / Jody James (DDM Suzuki) and Shaun & Ben Chandler (CES Suzuki).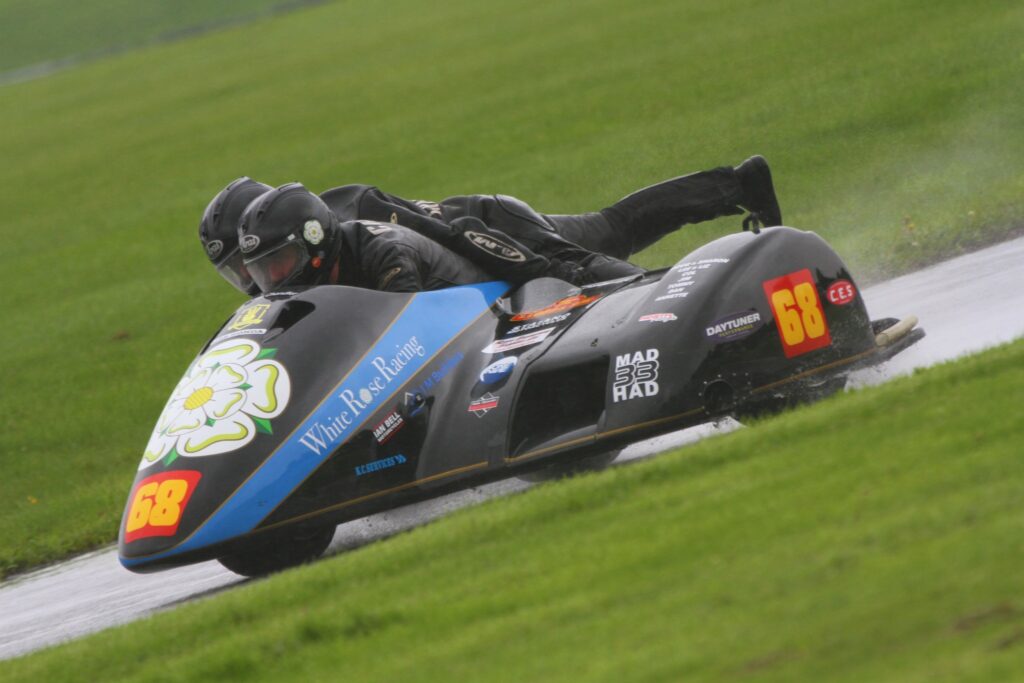 Unfortunately the aforementioned delays saw Saturday's race postponed until Sunday morning as the 6.30pm curfew saw action for the day brought to a close. This would make for a busy day for the F2 teams, with three ten lap races on the cards.
Sunday dawned brighter, with a rapidly drying circuit (although this would be broken during the day with some sharp and heavy showers of rain), making for more favourable conditions for racing in front of a large crowd of spectators.
Race one got underway on a fully dry track, although it was not the pole sitters who would lead into Coppice, but younger sibling Alan Founds / Roberts who made a lightning getaway from the second row, with the Ramsdens also putting pressure on Founds / Walmsley. Threading their way through the field from an initial starting position of eleventh were Fenwick / Knapton, who by lap three were hot on the heels of sixth placed Atkinson / Middleton, although a blown engine on the start and finish straight at the end of lap four halted the wild-cards, bringing their meeting to a premature end.
Founds / Roberts were hounded by their team-mates for the opening laps, before the championship leaders found a way through and began to open up a lead over what was shaping up to be an intirguing battle for second between the outfits of Founds / Roberts; the Ramsdens; Hegarty / Neave and Gibson / Gibbons. Ilaria / Brown – leading the Cup charge – were also closing in on the line of outfits ahead of them. However, there was disappointment for Gibson / Gibbons, who opted to retire to the paddock on lap seven as their machine was beginning to overheat – no doubt contributed to by being in dirty air in the slipstream of their rivals. Founds / Roberts dropped to the back of the field after making a pitstop to try to rectify an issue with their dashboard, eventually picking up several places to finish fourteenth.
Founds / Walmsley cantered to their seventh win of the season, nearly twelve seconds ahead of the Ramsdens who just held off Hegarty / Neave – these two pairings exchanging places several times in the latter stages. Ilaria / Brown were just one second in arrears for a superb fourth place, with Atkinson / Middleton in a lonely fifth. Wayne Lockey / Ben Binns (LCR Honda) had enjoyed a race long battle with Conrad Harrison / Ashley Moore (Ireson Yamaha), with the former just holding on to take sixth. Gary Horspole / Kenny Cole (Baker Suzuki) were eighth, ahead of the Chandlers – who were delighted to take the runners-up spot in the Cup, while Dave Schofield / Josh Smith (Bellas Yamaha) were third in class, and tenth overall.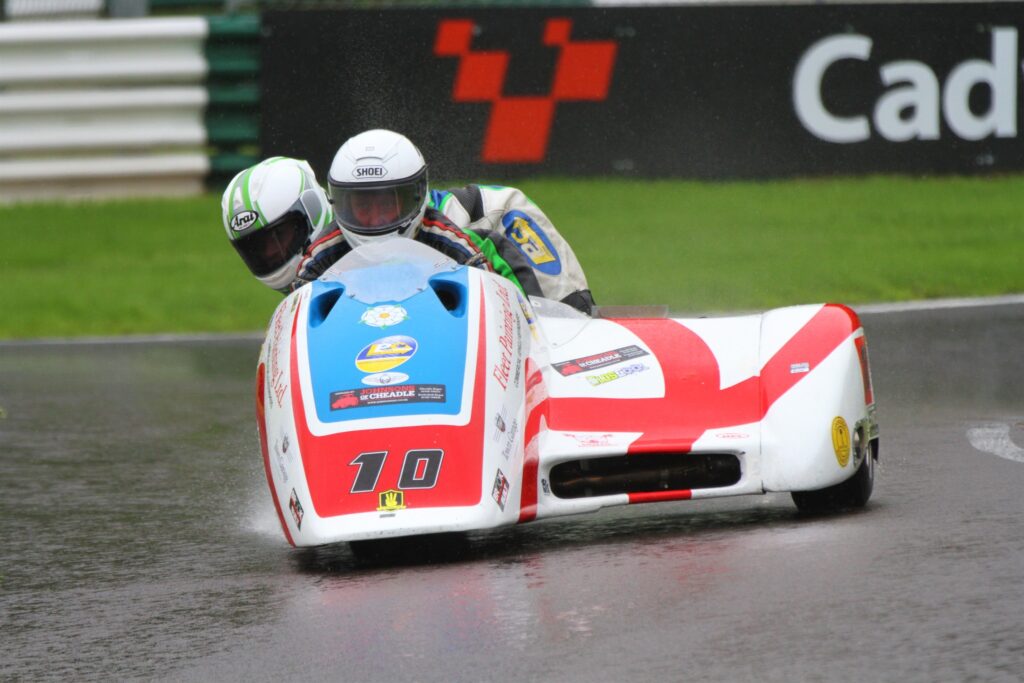 As usual, the top six finishers in race one lined up in reverse order in the second outing, however teams were consulted and opted that the remainder of the grid would be formed based on the fastest lap in the previous race – discounting finishing position. Obviously this meant that non-finishers who had put a fast lap in were at a distinct advantage, as they would usually be starting from the very back of the grid. (The same format – using fastest laps in race two was also utilised in deciding the grid for race three later in the afternoon).
It was Founds / Roberts – a definite beneficiary of the investigative grid positions who took charge at the front, and led for six laps before being overhauled by Founds / Walmsley. Unfortunately, this was something of a race of attrition, which saw several teams retire – these included Founds / Roberts with a front sprocket issue on lap seven. They were joined on the sidelines by Shand / Szeinel; Baker / Fitzpatrick; Harrison / Moore; the Chandlers and Andy Bingham / Dave Ryder (Shelbourne Suzuki) – who were having troubles with their F2 machine, but enjoyed better fortunes with a brace of wins in the F.S.R.A. / 1st Call Refrigeration Pre-Injection Races.
Founds / Walmsley took a comfortable win over Hegarty / Neave, who had been closely embroiled in a close battle with the Ramsdens – the latter settling for third following a brief grass-tracking excursion as they tried to make a move for second place! Gibson / Gibbons had overcome their problems from race one to come home fourth, while Ilaria / Brown were next across the line, again taking the F2 Cup honours. Atkinson / Middleton came in sixth, again with little company on the road, ahead of Lockey / Binns – who again had been battling with Harrison / Moore before the latter crew retired. Horspole / Cole took eighth, with the top ten and F2 Cup podium rounded out by the teams of Saunders / Stokoe and Schofield / Smith.
It was almost 4.45pm when the final race got underway, which sadly was red-flagged and a result declared after six laps. The outfit of Riley / James had to take evasive action to avoid another machine which was "having a moment" and left the circuit hitting the fencing. We wish passenger Jody a speedy recovery from the injuries to his hand which he sustained.
Founds / Walmsley took their third win of the day, and indeed it was finally "third time lucky" for Founds / Roberts who placed second, their pace finally being rewarded by a podium they had strived all day to achieve. The Ramsdens were third – taking their eighth consecutive British Championship podium – a streak which sees them settled solidly into second place in the series standings. Hegarty / Neave settled for fourth, just 0.3s down, and in turn were only 0.5s ahead of Gibson / Gibbons. Ilaria / Brown were sixth, with their Cup points being only one short of landing the championship with two rounds to spare! Atkinson / Middleton were seventh, with Harrison / Moore coming home just ahead of Lockey / Binns this time around. The top ten was completed by Horspole / Cole, just ahead of Saunders / Stokoe and Schofield / Smith who again completed the Cup rostrum just as they had done in the previous outing.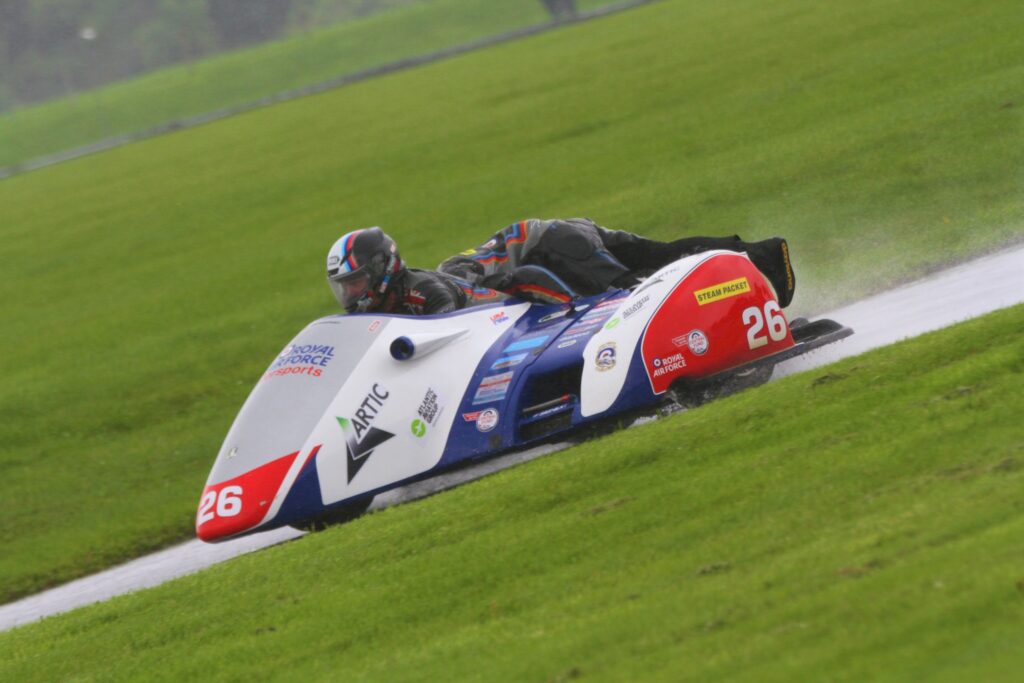 While no lap records fell in the British F2 Sidecar Championship races, Founds / Walmsley did manage to achieve this feat on their same LCR Honda in the final ROWE British Sidecar Championship race, setting a new benchmark F2 lap time of 1:35.804 to conclude a perfect weekend for the FHO backed team.
On behalf of the F.S.R.A., I would – as always – like to express thanks to our series sponsors: The A.C.U. for awarding the official "British Championship" title, along with A.V. Craine & Son; Hegarty Plant Ltd; Pagid Racing (Breitenbach Rennsport); Rowtec Engineering Maintenance; Whitby Cottages and Tingle Windows.
Finally, the F.S.R.A. would like to thank B.M.C.R.C. and R.K.B.- F1 (Roger Body) for hosting, and to all their dedicated officials, marshals, medics and all the other volunteers involved in running the event. The penultimate round of the series will see a return to Cadwell Park in under a fortnight's time for the annual "Battle Of Britain" meeting which will see events for two, three and four wheeled machinery, over the weekend of the 19th and 20th August.
Super F2 Points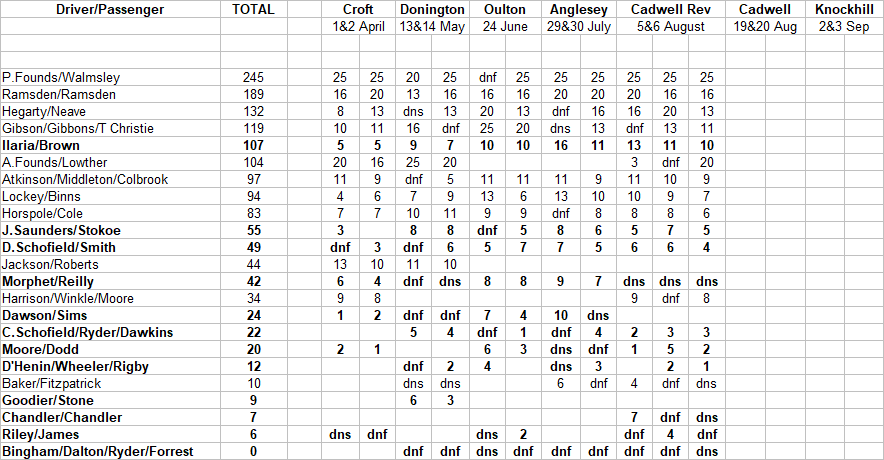 F2 Cup Points